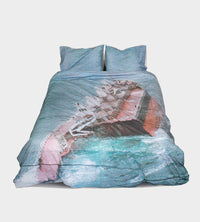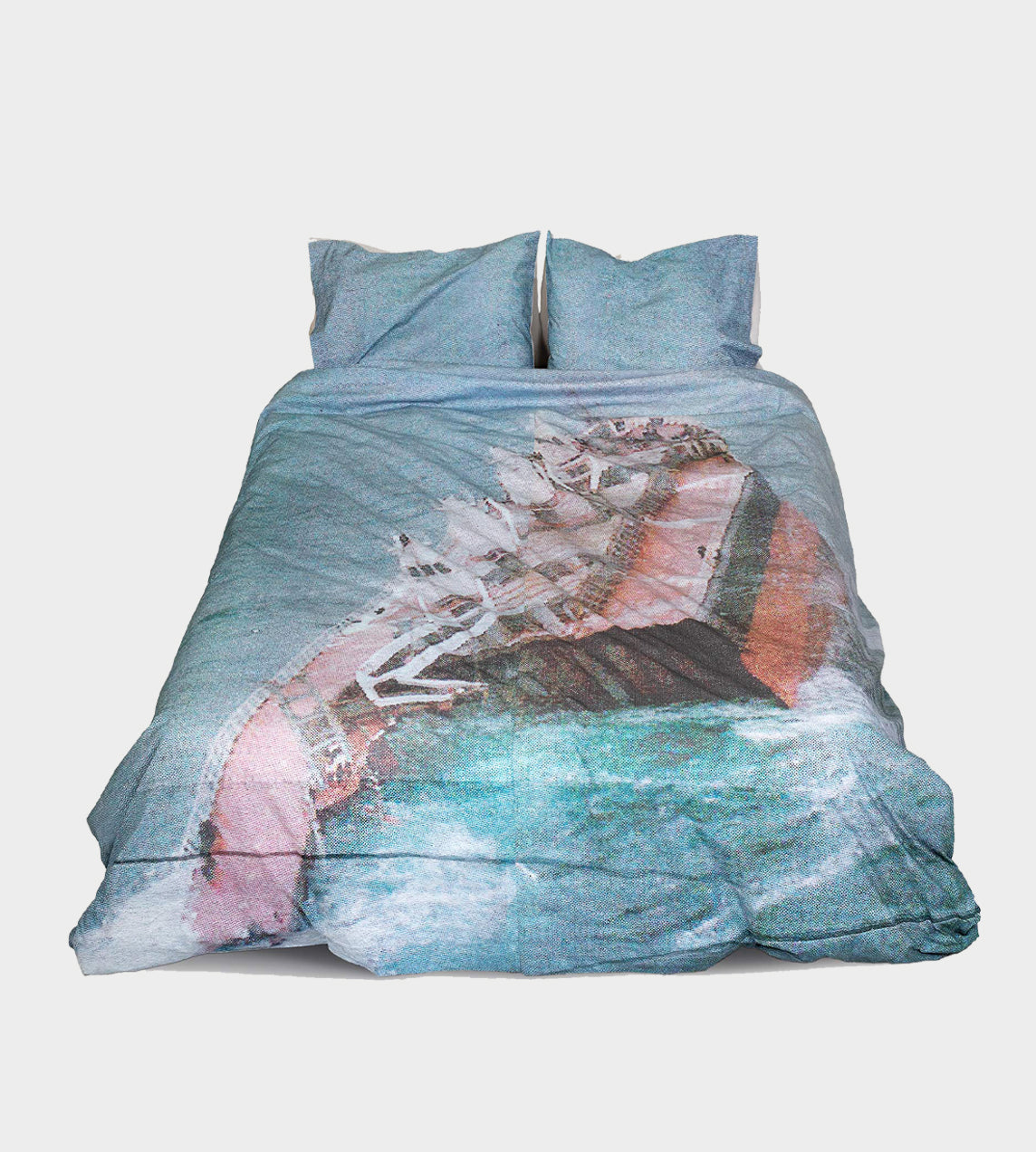 'Flare' Queen Bed Sheets
Regular price

$329.00 CAD

Sale price

$329.00 CAD

Regular price

$695.00 CAD

Unit price

per
The print features the fractured hull of bulk carrier 'MV Flare' that sank in the Cabot Strait back in 1998. The image is taken from the archive of former ship captain Evgenios Tigkas consisting of newspaper clippings, photographs, and cut-outs of extraordinary maritime moments.

Includes duvet cover, and two pillow cases.

– Duvet cover: 220 x 240 cm
– Pillow cases: 50 x 80 cm

100% cotton.

Made in Greece.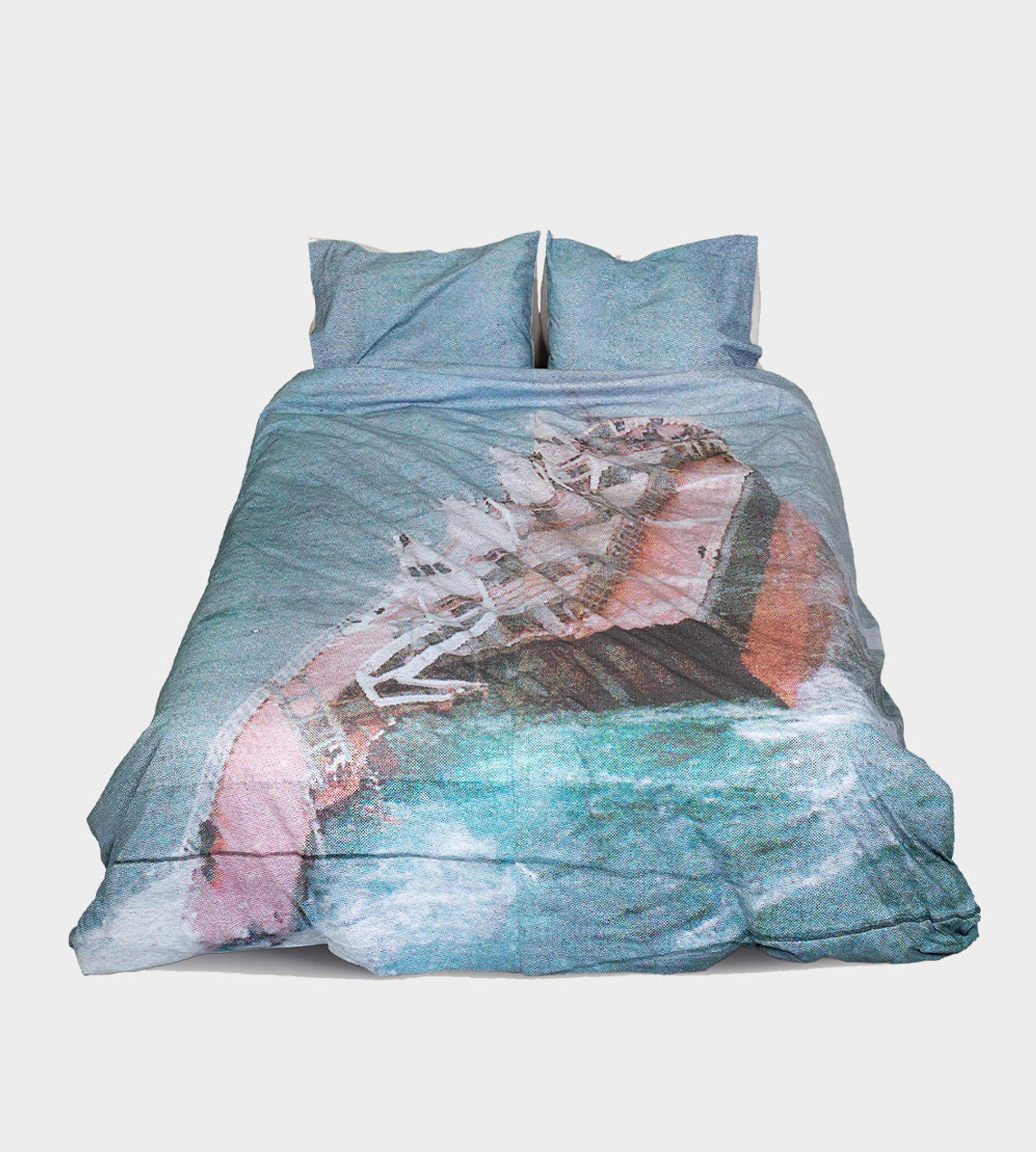 Size chart
Men's Clothing
| S/M/L | XXS | XX | S | M | L | XL | XXL |
| --- | --- | --- | --- | --- | --- | --- | --- |
| US | 34 | 36 | 38 | 40 | 42 | 44 | 46 |
| UK | 34 | 36 | 38 | 40 | 42 | 44 | 46 |
| Japan | 0 | 1 | 2 | 3 | 4 | 5 | 6 |
| Italy | 4 | 6 | 8 | 10 | 12 | 14 | 16 |
| Australia | 42 | 44 | 46 | 48 | 50 | 52 | 54 |
| France | 42 | 44 | 46 | 48 | 50 | 52 | 54 |
Women's Clothing
| S/M/L | XXS | XX | S | M | L | XL | XXL |
| --- | --- | --- | --- | --- | --- | --- | --- |
| US | 0 | 2 | 4 | 6 | 8 | 10 | 12 |
| UK | 4 | 6 | 8 | 10 | 12 | 14 | 16 |
| Japan | 0 | 1 | 2 | 3 | 4 | 5 | 6 |
| Italy | 4 | 6 | 8 | 10 | 12 | 14 | 16 |
| Australia | 36 | 38 | 40 | 42 | 44 | 46 | 48 |
| France | 32 | 34 | 36 | 38 | 40 | 42 | 44 |
Men's Shoes
| | | | | | | | | |
| --- | --- | --- | --- | --- | --- | --- | --- | --- |
| US | 5 | 6 | 7 | 8 | 9 | 10 | 11 | 12 |
| UK | 4 | 5 | 6 | 7 | 8 | 9 | 10 | 11 |
| Japan | 23 | 24 | 25 | 26 | 27 | 28 | 29 | 30 |
| Italy | 38 | 39 | 40 | 41 | 42 | 43 | 44 | 45 |
| France | 38 | 39 | 40 | 41 | 42 | 43 | 44 | 45 |
Women's Shoes
| | | | | | | |
| --- | --- | --- | --- | --- | --- | --- |
| US | 5 | 6 | 7 | 8 | 9 | 10 |
| UK | 2 | 3 | 4 | 5 | 6 | 7 |
| Japan | 22 | 23 | 24 | 25 | 26 | 27 |
| Italy | 35 | 36 | 37 | 38 | 39 | 40 |
| France | 35 | 36 | 37 | 38 | 39 | 40 |